Oct 14, 2021: We are unable to crawl the Disney site to maintain up-to-date availability. You will not receive any updates on your saved searches as a result. We have suspended ALL billing for PRO memberships. As has always been the case, anyone seeking a refund can send a message to support@dvcapp.com.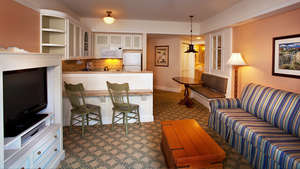 Beach Club Villas is rated 4.5 out of 5 stars with 10 ratings.
---
Sep 20th, 2021: Review by Kelly
Overall Rating: ⭐⭐⭐⭐⭐
My family has stayed at the Beach Club resort previously at the hotel.
The Villas are a step up!
So much more space than a regular hotel room, access to EPCOT and the pool area make this a 5+ star resort in my book.
Loved it!
Reactions:
---
Aug 30th, 2021: Review by Michele
Overall Rating: ⭐⭐⭐⭐⭐
We have been going to Beach Club for years and it's our absolute favorite resort! We were there a few weeks ago in a 1 bedroom villa and loved our stay. The beachy pool which is so large that it's taxed separately as a water park is a great place for kids (and parents!) to play. The slide is huge and so much fun. Love the lazy river where you can just float. My kids, when they were younger, really loved the large sandy area where they'd build sand castles using the buckets from lunch. The resort underwent a beautiful renovation and the rooms are updated wonderfully. Split bathrooms so someone can get ready while another is in the shower. Large soaking tub replace the old jet tubs and the wall opening between the tub and bedroom has been closed. The general store offers a large variety of foods both hot and cold as well as the usual Disney gear/trinkets. If you're staying in the villa side, there's even a quiet pool for owners and guests of owners right in front of the villas. A great place to stay!
Reactions:
---
Aug 30th, 2021: Review by Michael
Overall Rating: ⭐⭐⭐⭐
We got 5 nights at BCV for our spring break trip. Got in a little later than we had planned but the quick service had a good offering of food for us to have a nice meal before bed time. Speaking of the bed, the queen bed was very comfy, but the pull out bed was not. Room size was ok, We had ground floor and a very small patio but it was nice and quiet. Had accsess to one of the walk ways right out of our patio and it made for easy walking to the main walkway to Epcot. Pools, Storm along bay was Huge and fun, quiet pool was very nice as well. Cabanas are very nice and we did rent one for one of our non park days. Location was great, near 2 parks. Overall it was a nice stay.
Reactions:
---
May 18th, 2021: Review by Heidi
Overall Rating: ⭐⭐⭐⭐
If you find yourself able to get a room at the Beach Club over the Christmas holiday season, we highly recommend it. Stayed in a studio a few years ago and absolutely loved all the holiday decorations. Hope the gingerbread merry go round comes back! Hallways can be a bit long, but you are able to walk to Epcot from here! Watching the fireworks (again, hopefully they come back soon) at Epcot and then walking back to your room is such a wonderful thing. The pool area isn't as crowded during the holidays so there are more spaces and you can ride the slide more often! It is a fantastic resort, great shops and quick service. Still need to get to Beaches and Cream one of these days for lunch or dinner!
Reactions:
---
May 9th, 2021: Review by Judy (Updated May 9th, 2021)
Overall Rating: ⭐⭐⭐⭐⭐
The day we bought BCV was one of the best, we took our first trip home for our daughter's 9th birthday...flash forward 17 years and we are planning our 45th visit. The best pool, Beaches and Cream, and a short walk to EPCOT for drinks and dining in the evening. Late night a quiet soak in the hot tub while the kids swim or sleep. The theme of the resort helps you to relax and you find a peaceful respite walking paths in the evening. Best home away from home.
Reactions:
---
Apr 25th, 2021: Review by Pauline
Overall Rating: ⭐⭐⭐⭐⭐
It is difficult to beat this location since it's next door to EPCOT, the Skyliner, and has one of the best (if not the best) pools on property. Also - the marketplace has both joffrey's cold brew and a coke freestyle machine.
When we stayed during pre-covid times, the staff at the concierge desk in the DVC villas was very help as was the concierge in the villas.
We've only stayed in a studio it's comfortable and modern enough but doesn't scream "DISNEY". Whether that is a pro or con is personal opinion. Without context, the rooms could fit in at most mid-tier hotel.
The counter service dining at the marketplace isn't anything spectaculer and we found ourselves grabbing quick service from EPCOT.
Reactions:
---
Apr 24th, 2021: Review by Ryan (Updated May 23rd, 2021)
Overall Rating: ⭐⭐⭐⭐⭐
Overview
Beach Club Villas (BCV) has one of the best locations for a WDW resort hotel. It is the closest resort to Epcot (less than a 5 minute walk to the International Gateway) and a short walk to Hollywood Studios (about a 15-20 minute walk). The decor of Beach Club is inspired by New England seaside resorts. Lots of soft colors and ornate details with a nautical or beach theme. It feels very comfy and homey to me. BCV's deed expires in January 2042, which leaves only 20 years left on the contract - this is one of the largest drawbacks of owning at BCV right now as there aren't many years left of ownership, but some may look at this as a positive - as you're only "locked in" to paying dues for 20 more years.
Amenities
First and foremost, Stormalong Bay - by far the best resort pool at WDW. The pool features a large shipwreck that is a water slide. Also near the shipwreck is a small wading pool for small children and includes a little water slide. The pool also contains a sand bottom which is very unique, and the zero entry is actually like a beach where kids can sit and play in both the sand and water. There is also a lazy river, and you can borrow the provided inflatables to float around the lazy river. To prevent non-resort guests from using Stormalong Bay usually there will be a Cast Member outside of the entrances for BCV checking that you are staying at the resort and providing a wrist band for re-entry. As of April 2021 because of the pandemic, the pool does reach capacity - and there can be a virtual queue where you'll get a text message when it is your turn to use the pool. Despite this, the pool alone makes BCV worthwhile!
There are 3 additional smaller pools, Dunes Cove pool is located for BCV guests and there are 2 pools (Tidal for Beach Club Resort guests and Admiral for Yacht Club Resort guests) located at each end of the Yacht and Beach Club resort.
The resort also features a sand covered volleyball court, fitness center, boat rentals via the onsite marina
Because of Beach Club's location, there are quite a few restaurants and shops within walking distance. The amenities located at Beach Club itself are the Beach Club Marketplace which serves as a gift shop, resort mug refill and a quick service dining location, Cape May Cafe which is a character breakfast / dinner buffett (recently re-opened as a family style dining experience for breakfast and lunch as of May 2021) and Beaches and Cream which is a sit down dining experience. There is also Hurricane Hanna's Grill, which is Storm Along Bay's bar and restaurant but currently only has cold sandwiches and Martha's Vineyard Lounge.
I've never been to Cape May Cafe (will be trying it for breakfast and dinner when I am there in June), but Beach Club Marketplace is a nice location - great for a quick service breakfast. The gift shop itself doesn't have the largest selection of items, but is passable.
Beaches and Cream is themed after a 50s style soda shop. It features mostly sandwich style food items like Burgers, Grilled cheese and a Reuben sandwich - the chili tater tots are a favorite of mine! But what Beaches and Cream is known for is their desserts - specifically their shakes and ice cream sundaes. The kitchen sink is what Beaches and Cream is known for - a humongous ice cream sundae that is intended to be shared by 4 adults. Currently not occurring due to the pandemic - but normally when you order a kitchen sink, there is a huge surprise when the sundae is delivered. Beaches and Cream is a must do if you're staying at Beach Club. If you can't get a reservation at Beaches and Cream, there is a To-Go window outside of Beaches and Cream with dessert options BUT it is currently closed as of April 2021 - but you can order shakes from the Beaches and Cream menu at Martha's Vineyard Lounge.
Due to its location, you can easily walk to the Yacht Club and enjoy restaurants there including Ale & Compass (a sit down restaurant offering breakfast, and dinner). I've eaten dinner here and it is just OK - I wouldn't recommend it personally. Yachtman Steakhouse another sit down restaurant is currently closed due to the pandemic.
Lastly, restaurants at Disney's Boardwalk and the Swan and Dolphin hotels are also walkable - but just mentioning this in case you're looking for additional options.
Transportation
Walkability is a huge plus for Beach Club Villas, as stated earlier - you can walk to Epcot, Hollywood Studios and also enjoy amenities at Yacht Club, Boardwalk and Swan/Dolphin hotels due to the proximity of all of these.
If you don't want to walk, the Friendship Boats are offered and run every 15 minutes to take you to Epcot or Hollywood Studios. They're generally slower than walking, but in the Florida heat can be a welcome break.
Note: it is about the same distance to walk to Epcot from BCV as it is to walk to the Friendship boat dock - so it is not recommended you take the Friendship Boats to Epcot from BCV, but you can.
Because Epcot is so close - you can also walk to the Epcot skyliner station and take the skyliner to Hollywood Studios, Caribbean Beach, Riviera, Pop Century and Art of Animation. This gives you some additional options for dining.
Lastly, like all other Disney resorts - Disney buses are offered. Buses are only offered to get to Magic Kingdom and Animal Kingdom however. There are no buses to Epcot or Hollywood Studios (you should walk or take the Friendship boats). Personally, if you have your own car or are renting a car - I would take them over using the buses are bus capacity is very limited right now due to the pandemic.
Rooms
Similar to the rest of the hotel, the decor of Beach Club Villas is that of New England seaside resorts. I personally really like the decor as the rooms feel very homey to me.
There are 3 room types at BCV, studio (~360 sq ft), 1-bedroom (~720 sq ft) and a 2-bedroom (dedicated and lockoff, ~1083 sq ft). The studio sleeps 5, with a queen bed, a full size sleeper sofa and a small twin-bed that pulls down from the wall.
Strangely, the 1-bedroom only technically sleeps 4, with a king sized bed and a queen sized sleeper sofa (a 5th person can be added to the reservation but you must provide your own bedding and towels).
The 2-bedroom lockoffs are a combination of a connecting studio and 1-bedroom OR a dedicated which features an extra queen bed instead of a full size sleeper sofa.
I've personally only stayed in the studios and they are an average size at roughly 360 square feet. The room size is good in my opinion for 2 adults and 2 small children - but you may want to upgrade to the 1-bedroom if you have 4 adults.
Studios have a kitchenette with a small kitchen sink, mini-fridge and microwave. 1 and 2 bedrooms offer a full kitchen and washer dryer.
The room views at BCV are the biggest disappointment. Because BCV is tucked behind the Beach Club Resort, the room views are generally poor. Some BCV rooms have a limited view of Spaceship Earth (the big golf ball at Epcot) and a view of the Epcot fireworks once they return and some BCV rooms have a view of the Dunes Cove pool, but a lot of rooms have essentially no view at all. Personally, I like the pool and rooms at Beach Club enough that the view is not as important, but if the view is important to you, Boardwalk Villas might be a better choice.
Summary
Beach Club Villas may not be for everyone with many preferring Boardwalk Villas instead - but I prefer the rooms at BCV over BWV and the pool is definitely better. However walkability to 2 parks and proximity to 8 additional hotels (4 walkable, 4 via skyliner) can't be beat and is why I give BCV 5 stars.
Reactions:
---
Apr 21st, 2021: Review by Christine
Overall Rating: ⭐⭐⭐⭐⭐
Unfortunately it rained and stormed and then was 50 degrees during our BCV stay and we didn't get to enjoy the pool. We did get to jump in the hot tub closest to our room (I think it was a DVC only pool), which was lovely. I liked the lounge room on the main floor, lovely and seemed like a nice spot to unwind. Our room was cute but nothing to write home about. Short and covered walk to the BC Marketplace - I like being away from the hustle and bustle. I have enjoyed Stormalong Bay since during BC and YC stays and that's definitely the main draw of this resort! Take a few minutes to walk around and familiarize yourself with the layout because it is HUGE. Love Hurricane Hannah's for a fresh sandwich and drink.
Reactions:
---
Apr 20th, 2021: Review by Isabella (Updated Apr 20th, 2021)
Overall Rating: ⭐⭐⭐⭐
The location is great--can walk to Epcot and Hollywood Studios, and have the added entertainment and dining options at the nearby Boardwalk, Yacht Club, and Swan/Dolphin reosrts. It has the legendary Stormalong Bay pool, which is a bit like a mini water park, but can be hard to keep an eye on kids since it's so sprawling.
PROS
Walking distance to Epcot and Hollywood Studios (Hollywood Studios is a little far, but you can also take a boat. Epcot is practically in your backyard!)
Walking distance to the Boardwalk and the added food options at Yacht Club, Boardwalk, and Swan/Dolphin
One stop on the Skyliner to additional dining at Riviera and Carribean Beach Resort
A lot of good food options right at the resort (and Yacht Club is attached), both sit down and counter service.
Nearby mini golf!
Unique Stormalong Bay pool with lots of features including a sand bottom pool and a mini lazy river
Studio villas sleep 5
CONS
The villas are not in the main building, but connected by a covered walkway. This means you have to go across the lobby to get to the main Stormalong Bay pool
Some negatives about the Stormalong Bay pool: can be harder to keep an eye on kids, the entrance to the water slide is across the public pathway and outside of the main pool area, hard to get guests in if you have visitors
Sometimes shares buses with Boardwalk and Yacht Club (and in the past Swan/Dolphin, but I believe that stopped during the pandemic)
Reactions:
---
Apr 18th, 2021: Review by Vicki
Overall Rating: ⭐⭐⭐
Let me start out by saying we LOVE the Beach Club!! We had a 2 bedroom for nine nights mid March this year. Our room number was 341 which is a pretty central location and had a nice woods view. We've been here many times and I would suggest asking for a different room if you are given an odd numbered room I think above 360. I'm not exactly sure, but I know there's a lot of "road" views. That would be fine for a couple of nights but not a week plus!

There has been lots of talk about Stormalong Bay and access. We never had an issue, but I would suggest going down by 11:30 on your pool days.


Access and the Boardwalk are the main reasons we stay at BC! Cannot beat walking into the International Gateway.


The big disappointments for this trip were the dining options and housekeeping. I guess I could have complained and received better service, but I'm there to enjoy myself!! We were there for nine nights and housekeeping never entered our room except to bring towels in a bag. We had to ask to get trash removal and they didn't even do this. Of course, it's blamed in Covid. That's another reason I didn't say much. But as DVC, we are supposed to get a mid week semi cleaning. Would've been nice since we had four teenage girls and lots of trash!!


I do still love the Beach Club atmosphere, but I miss the Crew Cup for nighttime relaxing and I really miss being able to sit at Hurricane Hannah's and have a hot lunch at the bar and chatting with other guests!


My best suggestion for a nice evening is to take the Skyliner to Riviera and have dinner at Bar Riva or Topolino's! That was a fun experience!!
Reactions: