Oct 14, 2021: We are unable to crawl the Disney site to maintain up-to-date availability. You will not receive any updates on your saved searches as a result. We have suspended ALL billing for PRO memberships. As has always been the case, anyone seeking a refund can send a message to support@dvcapp.com.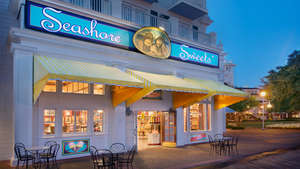 BoardWalk Villas is rated 4.8 out of 5 stars with 8 ratings.
---
Sep 18th, 2021: Review by Scott
Overall Rating: ⭐⭐⭐⭐⭐
Boardwalk is our home resort and the location can't be beat. Walking distance to EPCOT and DHS makes BWV a must stay for us. We've stayed at many different resorts on property and always prioritize staying at BWV. There are typically a ton of eating options on the Boardwalk - great shopping options and a lot to do without going to the parks. Overall a great place to stay.
Reactions:
---
May 16th, 2021: Review by Rob
Overall Rating: ⭐⭐⭐⭐⭐
You cannot beat the location. There are 2 of 4 parks right nearby and walkable. Epot and Hollywood Studios. The resort was recently refurbished and I think it was a positive update. Nighttime at the Boardwalk cannot be beat. There are tons of games, food, desert, and restaurants available just outside to enjoy. There is also an adults only piano bar and separate dance hall at the end of the Bordwalk which are great places to have fun.
Walking distance to Epot and Hollywood is great. Especially during the Epcot Food & Wine Festival. This is a very popular resort during this event and it usually books up very quickly. Also, you should note that this resort has some of the lowest point values for studios in the entire DVC. In September and January you can get standard studios for as low as 9 points per night!
Overall, highly recommend this resort. It is one of my family's favorite places to stay.
Reactions:
---
Apr 24th, 2021: Review by Ryan (Updated Apr 24th, 2021)
Overall Rating: ⭐⭐⭐⭐
Overview
The Boardwalk Villas (BWV) are considered an Epcot resort located on Crescent Lake, this resort is ideally situated close to both Epcot and Hollywood Studios. The location makes it an ideal place to stay and own but I'm not a humongous fan of the rooms especially the studios. The decor is themed to early 20th century New Jersey shore Boardwalk, which I personally like. BWV's deed expires in January 2042 which is something to consider since only 20 years remain on the contract - buying in now means a lot less time than other contracts and likely dwindling property values as the contract gets shorter and shorter. It may be attractive to not be locked into ~50 years of annual dues though.
Amenities
BWV is co-located with the hotel side Boardwalk Inn and shares its amenities.
Luna Park Pool is the main pool at BWV. It recently had its slide refurbished so the terrifying (to some) clown slide has been replaced with a more generic "Keister Coaster" slide, themed with Mickey and friends. The pool is large and functional, but there is nothing particularly special about Luna Park pool. It does not feature a zero entry, which for some smaller kids may be an issue (I know for my young son, he enjoys the zero entry pools more). Near Luna Park Pool there is a small kiddie pool which is just a small shallow circle and there is a playground for kids there too which is actually open. There are 2 other "quiet" pools, that are basic pools on property but may be less crowded than Luna Park Pool.
Restaurants and entertainment is normally a highlight for Boardwalk. Unfortunately right now most of the entertainment is closed and only some of the restaurants have reopened. Trattorria al Forna is an Italian restaurant on the Boardwalk and in my opinion is a better than average Italian restaurant for Disney World and also offers a good breakfast. I'd recommend trying it! Big River Grille and Brewing Works recently re-opened but I have not tried it - I've heard it is better for its beer than its food though. Abracadabar offers some light snacks and mixed drinks. Flying Fish and the ESPN Club remain closed but are both sit down dining options.
For Quick Service dining, the Boardwalk has Boardwalk Bakery which offers a variety of baked goods and sandwiches for breakfast, lunch and dinner - the baked goods are good here but the line can get quite long, so I recommend using mobile order. Recently the pizza window and I saw the hot dog stand re-opened on the boardwalk as well - both of these are OK choices to grab food quickly but the food generally leaves a lot to be desired.
Entertainment has not really returned to the Boardwalk yet, Jellyrolls is a dueling piano bar (21+ only) but remains closed. Street Performers on the Boardwalk are nowhere to be found and the Surrey Bike Rentals, once a popular option to take a trip around Crescent Lake also remains closed. Once these options re-open, Disney's Boardwalk will surely return to its former self with plenty of guests enjoying the Boardwalk area.
Shopping is primarily the General Store with Wyland Galleries also available but Wyland is currently closed. The General Store is a large gift shop that also offers some limited groceries. Defintiely an above average gift shop compared to smaller ones like Beachclub Marketplace.
Transportation
As I stated in the overview, location is a highlight for BWV. It is a short walk from both Epcot (8-12 min walk) and Hollywood Studios (10-15 min walk). Friendship Boats are offered to take you to either Epcot or Hollywood Studios as well.
From Epcot, you can take the Skyliner to access additional resorts (Caribbean Beach, Riviera, Pop Century and Art of Animation) which can increase your dining options.
For access to Magic Kingdom or Animal Kingdom, Disney buses are offered. Currently the buses have limited capacity due to the pandemic and if you have a car you may want to consider driving to Magic Kingdom or Animal Kingdom.
Rooms
Like other DVC resorts, there are 4 room types studio, 1-bedroom, 2-bedroom (lockoff and dedicated) and 3-bedroom Grand Villa. There are also 3 view types, standard view, Garden/Pool view and Boardwalk view. I have personally stayed in a studio, standard and garden/pool view.
This is where personally BWV loses a bit. I don't like the rooms as much as other resorts.
The studio room size is only slightly smaller than average (~359 sq ft) but I found that comes out of the bathroom. The bathroom in BWV feels really small - as a result, the tub has virtually no room between it and the toilet. The door to the bathroom also needs to swing out because the bathroom is too small to allow it to swing in and as a result gets in your way as you stand at the sink. As a result, you tend to close the bathroom door all the way, so it doesn't swing open by itself - but after taking a hot shower, it is very humid in the bathroom - and I've found the next day my towels are still damp. This problem was made worse in one of the 2 rooms I've stayed where the room always smelled musty and remained humid even with the A/C on full blast.
The thermostat is another issue - it is an older analog style thermostat and I found it difficult to find a good temperature. Either it was freezing cold or too hot, and I never found a good middle ground.
The rooms also just feel old. I don't necessarily mean the furniture in the rooms - but the drywall and ceilings have a popcorn effect on them that make it feel like an old building (which it is). When comparing it to the very similar layout of Beach Club Villas, I just prefer everything about BCV. The rooms just personally don't feel like a deluxe resort. Thats just my opinion though and YMMV!
View wise, personally I am not that interested in the view out of my room - so the point savings of a standard view room is great if you can get one. The views are generally of the grass or parking lot. BWV has the most inventory for Garden/Pool view rooms, so you'll likely be able to get one of these more easily but the views can be very mixed. For the Garden/Pool view room I stayed in, the view was of the pool, but the balcony was solid and very high, so you could only see the pool if you went all the way up to the balcony to look out and the kids couldn't see out at all.
The best view by far is the boardwalk view, which looks out onto Crescent Lake and the Boardwalk below. Point wise it costs the same as a Garden/Pool view room, but similar to Standard View, there are not a lot of Boardwalk view rooms - so if you find availability, grab it!
Summary
The Boardwalk Villas has a great location with sub-par rooms in my opinion. I would definitely stay at BWV again because the location is great especially the relative bargain that is the standard view rooms. I value location over most everything else though and BWV offers in my opinion the best location in all of WDW with the ability to walk to 2 parks, access to 4 resorts worth of of restaurants walkable (4 more if you take the Skyliner) and entertainment when it returns. The views offered by Boardwalk view rooms are also great and are possibly the best view rooms of all of the Epcot resorts. Personally though, Beach Club Villas has a special place in my heart and I'd pick staying at BCV over BWV if I had a choice.
Reactions:
---
Apr 23rd, 2021: Review by Diane (Updated Apr 23rd, 2021)
Overall Rating: ⭐⭐⭐⭐⭐
We love Boardwalk Villas! The location is amazing, walking distance to two parks. I hope they bring the Boardwalk entertainment back soon, because my kids loved it as much as the parks. This is one of the few resorts where the studio is actually better than the one bedroom. The one bedroom only sleeps 4, which requires the kids to share a bed. In the studio, they love the pulldown bed. It sleeps 5.
While the quick service here is not ideal, you can get a great breakfast sandwich and walk to Epcot for a delicious early lunch. The pool is underrated -- the slide is great! I have considered adding on points at this resort so many times.
Reactions:
---
Apr 21st, 2021: Review by Christine
Overall Rating: ⭐⭐⭐⭐⭐
This is our home resort and tied for where I've stayed most often (with AKL). The location can't be beat. I know people complain about the lack of an indoor QS spot but I almost always order groceries from Amazon and we use the in-room coffeemaker for our morning fix. Love the proximity to Trattoria al Forno, the character brunch is one of my favorites. Perfect location for anyone who used to do runDisney races. My husband or mom (depending on who I convinced to join me) could walk out to the boardwalk and wave hi and take pictures! Margarita Joe's is a favorite for a last drink at the end of the night and the nighttime entertainment with the "buskers" was just so cute and fun. Miss all that for sure. Love being able to walk to two parks and also so many other hotels. We're shoppers and love being able to stroll around all the gift shops around the lake! The pulldown bed is great - we're able to do a girls' trip and no one has to share beds.
Reactions:
---
Apr 18th, 2021: Review by Judy
Overall Rating: ⭐⭐⭐⭐⭐
I really love staying at the boardwalk villas. The ability to walk to two different parks is really a plus. I went to Hollywood studios early one morning and was able to be one of the first guests allowed into the park. The late night stroll over to Epcot was also perfect. The studio room is very comfortable, and the colors and decor are very nice. It is so nice to be able to walk quickly to the lobby too.
This is one of my favorite resorts to visit, even if I'm not staying overnight. I love the water right along the boardwalk, and enjoy getting a snack from the Boardwalk bakery.
I will look forward to ESPN opening so that I can enjoy Epcot, while my husband watches a game.
Reactions:
---
Apr 17th, 2021: Review by Laura
Overall Rating: ⭐⭐⭐⭐⭐
Boardwalk has a great pool and is very family friendly for walking to Epcot or just being by the skyliner. Poolside rooms are very convenient for a family with toddlers. Great pool!
Reactions:
---
Apr 17th, 2021: Review by Isabella (Updated Apr 20th, 2021)
Overall Rating: ⭐⭐⭐⭐
Boardwalk Villas has an amazing location and theming, but doesn't have the best pool compared to other DVC resort and limited in-resort quick service food options.
PROS
Walking distance to Epcot and Hollywood Studios
Has the Standard room category, which is one of the best DVC point chart values, and beautiful Boardwalk view rooms
DVC villas are in the main building and right next to the main pool
Studios sleep 5
Fun Boardwalk/Jersey shore themeing
Restaurants, bars, and street entertainment right on the Boardwalk (we love Jelly Rolls, Abracadabar, and Bellvue Lounge in particular!)
Has a Community Hall with games, crafts, DVDs, and other activities
Walking distance to additional food options at Beach Club, Yacht Club, Swan, and Dolphin
Short gondola ride to additional food options at Riviera and Carribean Beach Resort
Nearby mini golf!
CONS
The main Luna Park pool area feels a little dated, although they did recently replace the facade of the slide
There's not a good quick service retaurant inside the building in case of inclement weather (Bellvue has limted breakfast options in the morning and there are a few quick service food options outside on the Boardwalk)
Some balconies are covered, which can block the view and natural light
Reactions: