Oct 14, 2021: We are unable to crawl the Disney site to maintain up-to-date availability. You will not receive any updates on your saved searches as a result. We have suspended ALL billing for PRO memberships. As has always been the case, anyone seeking a refund can send a message to support@dvcapp.com.
Reviews for Jambo House - Animal Kingdom - View Other Resorts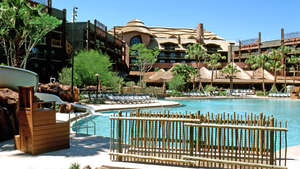 Jambo House - Animal Kingdom is rated 4.7 out of 5 stars with 6 ratings.
---
Jul 11th, 2021: Review by Kenneth
Overall Rating: ⭐⭐⭐⭐⭐
Animal Kingdom Lodge is home for us. Our DVC deed is technically at Kidani Village, but we love Kidani and Jambo House equally (although they have their differences - see below). For those new to DVC, it doesn't matter whether your deed lists Kidani or Jambo as DVC treats AKL as one resort for purposes of home resort status.
I realize that I am posting this review under the Jambo House category, so I'll try to keep my remarks to the Jambo House side, but many overlap. In my opinion, Animal Kingdom Lodge is the best themed property on Walt Disney World property. From the moment you walk in the incredible lobby and hear the beating of the African drums, you are transported to a different place. This is complemented by an incredible collection of art (reportedly the largest collection of African art outside of Africa!) and an awesome Cast of 'ambassadors' from various African countries who are eager to share their knowledge and lead you and your family in cultural activities.
Yes, there are animals! It is amazing to wake up in the morning and see giraffes right outside your window. But if you don't have a savannah view room, don't worry... there are plenty of overlooks to see the savannah without a savannah view room. What other resort offers something as cool as this?
The food options are amazing. Boma is fantastic, particularly for breakfast. Jiko is a great signature restaurant. The Mara is one of the best quick service restaurants on property. And Sanaa is just a short walk over to the Kidani side.
You really can't go wrong with a stay at Animal Kingdom Lodge!
Reactions:
---
May 30th, 2021: Review by Christopher
Overall Rating: ⭐⭐⭐⭐⭐
We love staying at our home resort Animal Kingdom - Jambo House. We have now stayed in all the rooms from Value Studios to 2 Bedroom Lock-offs and have loved our stay everytime no matter how little or big the room is. We haven't stayed in the Concierge rooms or Grand Villas but we are doing the Grand Villa later this year and we can't wait.
We have been staying at the resort while Covid has been going on and the resort has been quite and relaxing. Being able to practically get the pool and the hot tubs to ourselves has been amazing. During the day we get to walk out on our balcony and sit and relax and watch animals and then at night the resort has been peaceful and quite as well.
Since we did stay during Covid and there wasn't really any food options at Jambo House we either ate out by walking over to Kadani Village or just went to another resort that had more open for eating when we were in a studio or brought and cooked food in the rooms that had a full kitchen. We didn't care though because the whole experience made it all worth it.
When we did go places and used the bus we just gave ourselves enough time to get there and enjoyed the ride. It really doesn't take that long even though people complain alot about how far the resort is away from everything. We reccommend giving it a try and try to keep an open mind when it comes to the transportation, if you need to get there sooner that I suggest using your own car that day or calling a ride share service.
Reactions:
---
Apr 21st, 2021: Review by Christine
Overall Rating: ⭐⭐⭐⭐⭐
Love our stays at Jambo House. Have stayed in both a Value studio and regular studio (plus Savannah club level!). In the value we had a great view of the pool and flamingos. In our regular studio, it was FAAAAAAR but we got a tiny peek at giraffes every morning. The lobby is one of my favorites to just sit and enjoy. The dining here is fantastic. We love all the options and Victoria Falls Lounge is just great. Jiko was just delicious, love their steaks. Boma is a buffet with lots of "safe" options but also great salads, soups, and spiced meat! The rooms are a bit dark in the decorations but I think it keeps with the theme. We usually do split stays and stay here for our AK days and the bus is such a quick trip! Love the pool and hot tubs here as well. Pool might be in my top favorites along with the resort.
Reactions:
---
Apr 20th, 2021: Review by Isabella (Updated Apr 21st, 2021)
Overall Rating: ⭐⭐⭐⭐
Animal Kingdom Lodge Jambo House is rich in themeing, artwork, and cultural representative Cast Members. Compaed to the neighboring Kidani Village, this building is more bustling since it has the large gift shops, two restaurants, a bar, and a quick service restaurant. Like Kidani, the animals make this resort unique and relaxing, and the Animal Kingdom Lodge has the best schedule of free activities! Some people think Animal Kingdom Lodge is far from everything, but it's not far from Epcot and Hollywood Studios, and it's maybe a 15-20 minute bus ride to Magic Kingdom, but the same can be said for the trip from Magic Kingdom resorts to Animal Kingdom
PROS
Animals (and artwork) make the resort so unique and relaxing!
Close bus ride to Animal Kingdom
No dedicated 2-BR (all lock-offs, so the second bedroom has a real queen bed and a pullout sofa)
Has the only Club level DVC rooms at Disney World
Has an amazing schedule of free activities (animal feedings, cookie decorating, face painting, art tours)
Fun to learn from the cultural representative Cast Members
Great food options with two sit-down restaurants and one quick service (and you also have an additional sit down restaurant Sanaa at Kidani just a short walk or shuttle ride away)
Zero entry pool
Has a mini spa with massages
CONS
DVC villas are on the 5th floor at Jambo House, so you're further from the animals in the saannah view rooms here (though some people like higher floors for a wider view). At Kidani you can be as low as the 2nd floor.
Have to take buses to all of the parks (though I find the buses at Animal Kingdom to be very efficient)
The buses to the theme parks stop at Kidani before Jambo, so the bus could be full during busy times
Hallways can be long, but they seem longer at Kidani
Not much grounds to walk around (besides the pool area and savannah overlooks, though Jambo House's outdoor public spaces are bigger than Kidani's)
Studios only fit 4
Reactions:
---
Apr 18th, 2021: Review by Ashley
Overall Rating: ⭐⭐⭐⭐⭐
Most Deluxe hotels at Disney lean on one of two main features to justify staying there: location and theming. A common criticism of Animal Kingdom Lodge (AKL) is that it's too far removed from the main hustle and bustle. There is no "Theme park view" room category, or direct transportation to any theme park. However, it's arguable that it's (really only somewhat) more distant location is a benefit, since arriving at the Lodge will transport you somewhere else entirely.


The theme of AKL is executed with care and attention - the hotel has the largest collection of African art anywhere outside of Africa, for example. Multiple cultural representatives from various countries in the continent are available for conversation. There are also multiple free cultural tours - don't miss the art tour, which explains what the giant headdress in the Jambo lobby was used for! As a result, where some other themes start to wear thin by the end of a trip, Jambo's feels more and more enjoyable and familiar.
As for the DVC rooms - Jambo's DVC inventory is on the 5th and 6th floors. Note that many rooms classified as Standard view actually do have a view of animals, it just may not be the entire Savannah. Some Savannah view rooms are also pretty far down the hallway from the lobby.
One benefit of Jambo over Kidani is that Jambo has more of a hotel-like suite of amenities. Kidani doesn't have a Quick service other than the pool bar, for example, and the gift shop at Jambo is more expansive. However, it may be worth a trip to Kidani to visit the pool, as guests of either side of the resort have access to both pools. Jambo's pool backs up to some animal enclosures, making a relaxing drink by the pool with your best giraffe friends a possibility. However, Kidani also has a great splash pad for the little ones.


Boma and Sanaa are both must-try restaurants. The Mara is sufficient, though it might get repetitive on longer trips if you rely on it for breakfast every morning. It does have several unique items in addition to the standard chicken sandwich / burger / fries. Both sides have a decent pool bar offering that has food as well as drinks.


One of the best parts of staying at Jambo is that the slightly longer bus ride, which is really only 15 minutes, allows you time to settle and relax a bit after a hectic day at the parks. The resort is stunning at night, and the warm, welcoming glow upon your return makes that "welcome home" feel a bit more meaningful. For longer trips at Disney, a break from overstimulation is welcome.


Check out AKL for a relaxing, but well-themed and enjoyable Disney trip.
Reactions:
---
Apr 17th, 2021: Review by Jessica (Updated Apr 17th, 2021)
Overall Rating: ⭐⭐⭐⭐
Animal Kingdom Lodge Jambo is the main building housing both regular rooms with the 5th and 6th (concierge on 6) floor housing DVC units. Jambo is the only DVC which offers the rare opportunity to book Concierge/Club level services. Currently, the Club level services are unavailable at the posting of this review. These units were converted hotel rooms vs. Kidani which is all DVC. Savanna view rooms offer just that, a view of the animals on the savanna. Standard offers views of the pool, roof line or parking lot, with the occasional partial savanna view or peek a boo view if you are lucky. Value rooms offer views of the parking lot, roof, pool or savanna and requests on those rooms will not be accepted by DVC. It's luck of the draw! Such an amazing resort. The Mara has returned to service for breakfast (very few options!) and dinner service which had many choices. The pool area was quite busy as I suspect overflow from Kidani with pool restrictions on numbers of people. The hotel itself is not open currently (April 2021) so it's pretty quiet. The store is also not open. The rooms were clean and appear updated. We had a newer sofa bed on our recent stay. Everything was beautiful but check before you come on what is open and available.
Reactions: