Oct 14, 2021: We are unable to crawl the Disney site to maintain up-to-date availability. You will not receive any updates on your saved searches as a result. We have suspended ALL billing for PRO memberships. As has always been the case, anyone seeking a refund can send a message to support@dvcapp.com.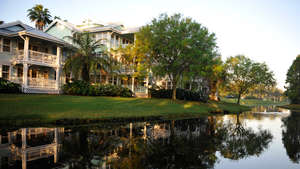 Old Key West is rated 5.0 out of 5 stars with 4 ratings.
---
Sep 17th, 2021: Review by Doug
Overall Rating: ⭐⭐⭐⭐⭐
We have stayed here multiple times and we love the atmosphere around this resort. This has been updated and is great. The rooms are larger. Don't miss out staying at a very nice resort. Give it a try and you won't be disappointed in my opinion.
Reactions:
---
May 17th, 2021: Review by Heidi
Overall Rating: ⭐⭐⭐⭐⭐
Old Key West almost always has availability and seems to get a "bad rap" for how sprawling it is and the bus transportation. But don't overlook OKW just because of transportation. Yes, the buses aren't the fastest transportation and sometimes you end up waiting awhile for your stop, but the original Disney Vacation Resort is its own "hidden gem." The walking paths around the resort with the golf course and ponds are so peaceful. Walking over to the Hospitality House area is relaxing and easy. The main pool is great for kids and adults with plenty of seating and a nice hot tub. The Gurgling Suitcase is great for poolside cocktails and the quick service is yummy - try the tuna sandwhich and the key lime pie! Olivias is a nice option for sit-down dining if you have more time. The store is great, staff are wonderful and friendly - from front desk to bartenders to lifeguards. If you really need to get to a resort faster than the buses, then call a Lyft, which was easy and quick and picks you up and drops you off at your room! Speaking of rooms - spacious with lovely balconies - almost always had breakfast outside on our patio. Highly recommend buildings 11, 12, 16, 62 and 23-26. Have fun!!
Reactions:
---
Apr 18th, 2021: Review by Judy
Overall Rating: ⭐⭐⭐⭐⭐
We stayed in a two bedroom dedicated villa for 7 nights in March 2021. Our room was so large and great for a multi generational stay. The bathrooms are beautiful, and the upgrades are wonderful. Having a full sized washer and dryer is a big plus. I was the only one of our party that has an annual pass, so most of our time was spent at the resort. The community hall was perfect for our grandchildren, the 4 year old became fast friends with Sheree, and all the other helpful staff members. The variety of crafts kept everyone busy. I highly recommend doing the tie dye Mickey shirts! We went to the main pool and really enjoyed the slide, and the proximity to the drink refills too. We had our own car, and I think it was helpful with the large the property. It's been a few years since I've rented here, but I hope to be able to stay here again soon.
Reactions:
---
Apr 17th, 2021: Review by Laura
Overall Rating: ⭐⭐⭐⭐⭐
The pros of Old Key West is that the rooms are larger than most and beautifully upgraded. The entire resort has been updated and is so nice. Always a great stay and the boat to Disney Springs is a very nice amenity.
The only con is that you can't walk, skyline or monorail to any resort.
Reactions: